ALUVIN

: Building for Tomorrow
Less material, less energy, increasing recycling and recovery
As a packaging manufacturer, we constantly consider the future! Our product designs are designed to be easily recyclable. In this way, we contribute to a "circular future.
This means that the used aluminum packaging is sorted and then recycled with the end result being a fully-fledged new product. In this way, the 'cycle' is complete!
123000
RECYCLED EVERT MINUTE
11
MILLION TONNES EVERY YEAR
Aluvin is also participating in efforts to jointly reduce packaging materials and increase packaging recyclability. Aluminum is an ideal material for protecting food and increasing shelf life. Therefore Aluvin is always looking for the optimal balance between optimal functionality and recyclability.
THE ALUVIN BENEFITS ARE CLEAR
ALUMINIUM IS FULLY RECYCLABLE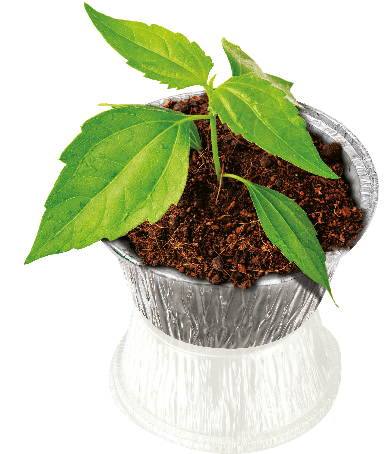 THE AVAILABLE QUANTITY OF END-OF-LIFE ALUMINIUM SCRAP TODAY IS LIMITED
LIMITED
Due to the long life span of volume-wise dominant aluminium applications such as buildings and transport vehicles, theavailable quantity of end-of-life aluminium scrap today is limited.
75% of all aluminium ever produced since the start of its industrial production is still in use.
Because of continuous market growth, the current aluminium material demand cannot be fillled by the avail-able recycled aluminium from end-of-life scrap. The missing quantity has to be supplied by the primary aluminium industry.
In Europe, about half of the alumi-nium produced originates from recycled materials
ALUVIN
RECYCLING AT END OF LIFE IS THE RIGHT THING TO DO
To ensure that aluminum stays in the cycle and is available for further applications, we encourage proper collection, sorting and recycling of used products that are at the end of their useful life!
In this way, we are happy to contribute to an environmentally conscious aluminum processing process!